'Tis the season for park parties! While adults might bemoan having to schedule all of their recent gatherings outdoors, it's nice to see kids unphased and thoroughly enjoying their time outside, wind, rain or shine. There's no denying that most kids—bless 'em—bloody love parks and playgrounds. This is good news given Melbournians will only be allowed 10 visitors in their homes, including dependants, when 80 per cent of the state is projected to be fully vaccinated around 5 November.
Luckily, Brunswick has many well-kept parks for outdoor birthday bashes. But as most experienced party-planning parents know, you have to inspect a few things before sending out invitations:
Is there a good playground?
Can we take cover if the weather changes?
Are there toilets available nearby?
It's surprisingly rare to nail this trifecta, so we've done the research for you. Here are the top three best spots for a kid's outdoor party in Brunswick:
Bulleke-bek is the Woi Wurrung name for the area known as Brunswick, and also the name of a new park tucked away among the apartments off Breese Street next to the train line. Its adventurous treehouse playground is a favourite among local kids, who love playing with the manual water pump that fills up a mini moat. While quite small, the park fits in plenty of seating, a table tennis table, community garden, a patch of green and an accessible toilet. Of all three parks from our list, it has the best protected seating areas, with two long shelters covering tables and barbecues. Parents can also find heaps of good coffee options nearby.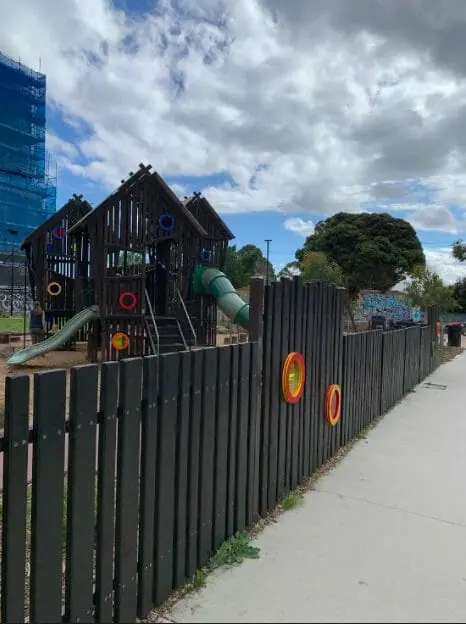 Bulleke-bek park. Click on the image to find it on the map! Photo: author
Over in Albert Street is the popular dog park Fleming Park. The playground sits among some gorgeous trees and has all the necessary facilities immediately surrounding it: an accessible toilet, drink taps, tables, a barbecue and a shelter. A large, modern grandstand overlooks the footy oval and offers a beautiful spot to relax in dappled shade. Parents will be happy to hear Wildlife Bakery is a stone's throw away for some great coffee and a last minute contribution to the picnic!
Fleming park. Click on the image to find it on the map! Photo: author
The biggest of the three, Jones Park is on Albion Street just before the Merri Creek Trail. A wide, vine-covered shelter sits right next to the playground and fits two tables and a barbecue underneath. On the other side of the shelter is a partially fenced-off wetland and plenty of nature to explore. Kids can also tucker themselves out running around the open grassland or doing roly polys down the hill. An accessible toilet is only a few metres from the playground in this dog-friendly park.
Jones Park. Click on the image to find it on the map! Photo: author
Other notable mentions:
A small and stunning native garden with clean new facilities, including sheltered tables next to the playground. There are no nearby public toilets, save for the cafes (if they're open to the public).
A huge park with undulating paths, table tennis tables and a playground. Public toilets are a couple of roads over in Brunswick Park and there aren't any sheltered seating areas.
We recommend checking the Victorian Government's website for up-to-date regulations before organising your event.