When Gus Vargas and his family arrived in Melbourne after leaving Chile in 1975, there was a ghost in his suitcase. 'I didn't know it was there and all of a sudden I discovered, "woah, I've gotta do something with this!"' 
The ghost from Gus's suitcase inhabits every element of Neruda's Brunswick cafe, right down to the colours of the paint. 'I had a lot of trouble to get that blue, many hours of mixing colours until we got it,' says Gus, who was only 14 when he and his family packed all their belongings into a few suitcases to come to Australia. 'That blue, it's the same as my living room…because we came from a place where we were uprooted and brought to a new place, [it's] a new horizon. There's still a lot more things to come. That blue, it's infinity.' 
Each panel of the cafe's interior is a distinct colour, evoking dreams of distant lands. Throughout the space, Gus has handpainted the national flowers of each South American country – he studied fine arts before starting a career as a musician that took him around the world. The striking azure blue wall is adorned with artefacts from his travels, along with pieces of Vargas family history, a shrine to footballer Diego Maradona, and images of the cafe's namesake, Nobel Prize-winning Chilean poet Pablo Neruda. 
"That blue, it's infinity" Photo: Author
At the opposite end of the venue, balancing the blue wall, is a mural of a young girl, perhaps an older relative of the little Inca boy that once marked Neruda's original location on Albion Street. 'We're still small and innocent but we've grown a little bit,' Gus explains, referring to the larger space in the cafe's new location on 66 Breese Street, open for business as of January 8th 2022.
A stage in one corner of the new cafe will be used for poetry nights in both English and Spanish, as well as comedy, open mic, and acoustic music performances – regular events in the old location that will doubtlessly benefit from the additional elbow room available in the new space.
Gus has worked hard to create an environment that feels like home for everyone with cosy couches, a combination of private and communal tables, and areas that can accommodate large groups. People catch up over mouth-watering traditional South American dishes such as empanadas and ceviche, or meet for tapas and a drink – the bar boasts a vast array of Chilean wines and over 50 varieties of pisco – but it's community that drives the Neruda's spirit, Gus explains. 'We've had 3 or 4 weddings already, people that met at the cafe…they started talking and two years later [they] come with a baby! And that's the main thing, that's the main reason we're here.'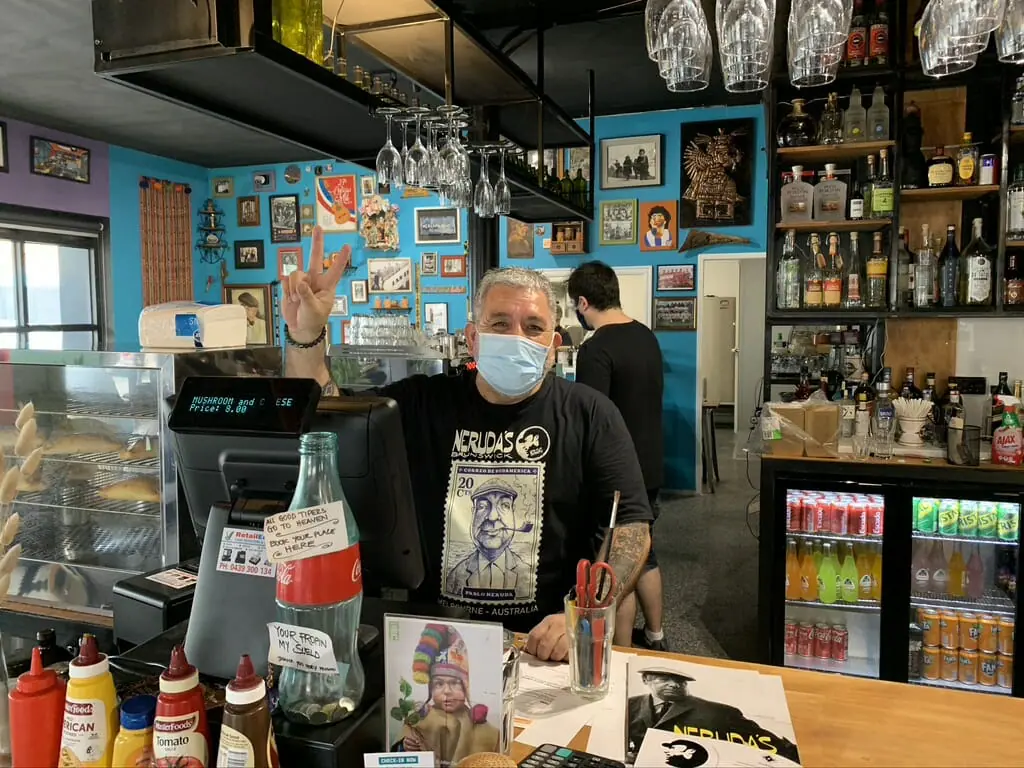 Gus on opening day. Photo: Author.
'There's still a lot more things to come, I want this place to be in 20 years or 30 years, maybe not here but somewhere around, the same Neruda's, bigger or smaller…so there's a story, some kind of legacy. It's just the beginning,' says Gus. 'The ghost that we brought from the other place that was in my suitcase from Chile, I brought it here.'
---
While doing our research, we encountered many curious facts about Gus, Neruda's and Pisco that we'd like to share with you:
While the Inca boy mural has been covered, another work by Colombian artist Julian Clavijo can be seen on Colebrook Street, Brunswick. The new mural is by Juan Camilo Delgado – known as Refuz – who is also from Colombia and resides in Coburg
Gus and his brother have played music for countless people. Notable audience members include Nelson Mandela and Queen Elizabeth II.
Gus's brother is holding a guitar in the photo of the Vargas family boarding the plane. This same guitar now hangs on the wall inside the cafe and bears the faces of two of Chile's most famous musicians, Victor Jara and Violetta Parra.
Pisco is a high-proof spirit produced in winemaking regions of Chile and Peru, made by distilling fermented grape juice. It can be enjoyed on its own or in a cocktail.