This route is a Brunswick-only route. It's the shortest one on our list but definitely not the least interesting. Along this route, you will find a wide variety of street art, friendly local business owners with discounts and Scavenger Hunt specials.
To make your experience easier and support local businesses and artists, follow these three simple steps along the route:
STARTING POINT
Start this route at Clifton Park's basketball half court.
Right behind the court, you'll find the first Street Art spot of this route. Many artists contributed to painting this big wall.
Curious fact: Gilpin and Clifton Parks sit on what used to be quarries from which stone was extracted. When they were exhausted, they became enormous craters and in 1947 the council purchased them and it took 17 years to fill them back up and turn them into parklands!
Next Stop: Head south to Gilpin Park and find a colourful wall in it!
STOP 1
This mural showcases one amazing piece after another! Various artists have contributed to bring colours, shapes and characters to Gilpin park!
If you find it hard to get to the wall, click on the image below to see its location.

Next Stop: Go to Union Street to get your caffeine dose, a croissant, or a doughnut!
STOP 2
After discovering a few street artists, visit Sweet Evelyn where you will surely be welcomed with a smile!
Challenge: Take a picture with Martina and/or Concetta and upload it to Instagram tagging @sweetevelyncafe and @brunswickdaily
Click here to go to your Passport! Show it at the counter to get a 10% discount!
Next Stop: A colourful alley!
STOP 3
Head East towards Sydney Road and find an alley located between Edward and Weston Streets (click on the image below to find the exact location).
This alley is full of sweet colours! Pink, blue, yellow, green! Spot the one that reads SIREPS. We asked the artist about the intention behind his work and this is what he told us:
Helps to fill my boring life with some colour and to feed my ego and make this old man feel cool still… 
It was awesome to paint with DSCR, someone who shares mutual friends for many years but this was the first time we got down together. He is a legend of the Melbourne graffiti scene and was a part of the history making first ever 6 car whole train over 20 years ago which blew my mind to see in the flesh! 

Next Stop: Just around the corner
STOP 4
Not far from where you just were, you will find a small spot with multiple artists sharing their art.
Click on the image below to find the exact location on maps.
Next Stop: Pastries across the road!
STOP 5
Clinker is an espresso bar offers delicious coffee. The shop owner, Damian, is a talented barista and a great person to have a chat with!
Here you can get some delicious pastries and bring them with you to the final event!
Click here to go to your Passport! Show it to get a discount!
Challenge: ask Damian for an autograph, take a photo of it and tag @clinker_brunswick
Next Stop: Crowned dog
STOP 6
Head East towards Lygon Street and find a dog with a crown and an archangel little canine by it!
Take a pic and tag the artist: @putospaint
Next Stop: Not only does the sun shine.
STOP 7
Keep walking or riding towards Lygon Street, enjoy the little treasures that you'll find along the way. When you hit Lygon Street take your left until you find Sunshine Lane (click on the image below to find the exact location).
This is probably Brunswick's largest street art gallery. It holds amazing work from various artists. Take your time and walk around the many pieces that show how different styles and colours can live together.
Challenge: can you spot the ski masks around the lane? Take a pic and tag @brunswickdaily
Take a pic and tag the artist: @sugarsweetpaint / @dr_dosey / @findac / @saemsaembutdifferent / @peblsart / @baxter_tck
Next Stop: Lane Mythology
STOP 8
Not too far from the previous stop, you will find ABER's best kept secret. In a hidden lane, you will find a gorgeous owl guarded by two Greek gods. Isn't it amazing how ABER was able to play with a roller door's texture and bricks?
(this spot is quite a hidden gem – click on the image below to find it on maps)
Take a pic and tag the artist: @aber.artist
Next Stop: Creativity in a Studio!
STOP 9
Moss Studios are a creative hub in Brunswick. Drop by and ask about their Scavenger Hunt deals using your passport.
Next Stop: Our Event!
FINAL STOP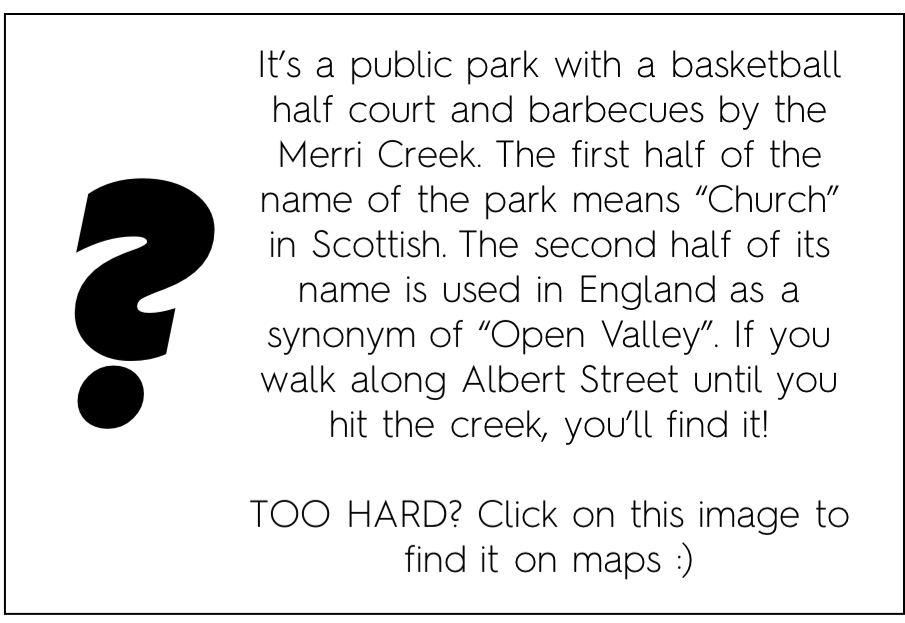 ---
Thanks to the amazing businesses that support this Scavenger Hunt!