On your daily walk, have you noticed any little hand-crafted wooden boxes outside people's houses holding books and wondered what they are? Well these are called Little Libraries and it's a revolution now sweeping the streets of Brunswick!
The concept is for neighbours to share books with each other, by housing a selection of pre-loved books in an accessible weatherproof structure. The trust system of "take a book, leave a book" fosters a fantastic sense of community and offers everyone the opportunity to read. 
Left – Seeds Communal Garden, Albert Street / Right – Brickworks Drive
The first Little Free Library originated back in 2009 in America and since then, people from around the world have followed suit. This last year has seen an increase of little libraries appearing in Brunswick, with most of us stuck at home feeling isolated, initiatives like this help us stay connected with others. 
Little Libraries come in many shapes and sizes adding colour and enjoyment to the suburb. Almost always they have been made by repurposing old materials. Whether that be an old wardrobe, a bookshelf with a door stuck on the front or even an old fridge – if there is space to hold books and it can withstand the unpredictable Melbourne weather then it can be a Little Library!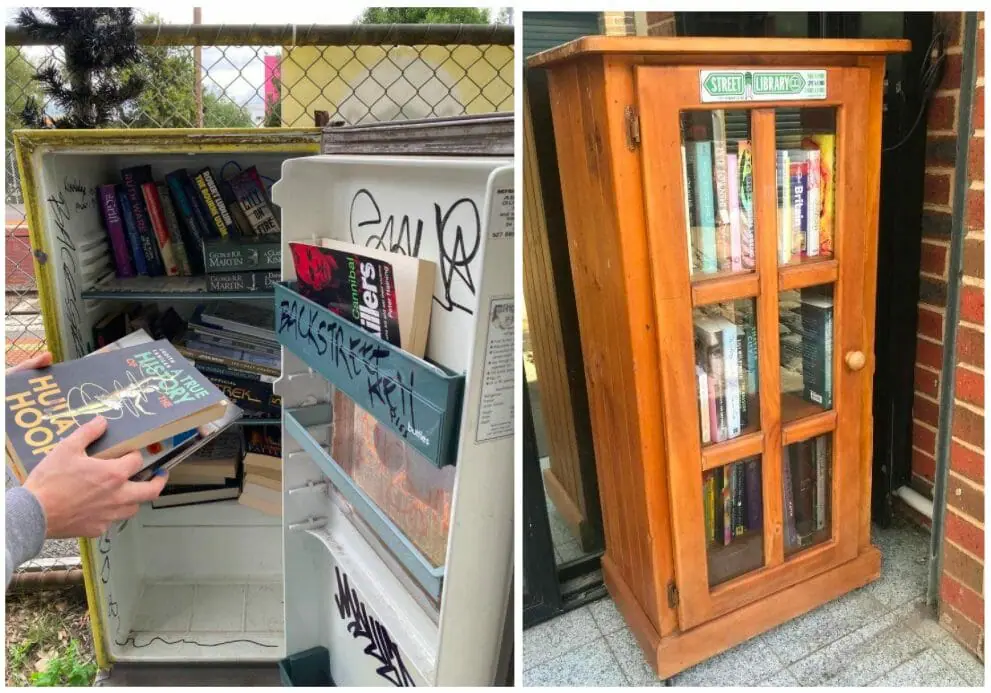 Left – Fridge library by Brunswick train station / Right – Spurway Lane
Found in front of people's houses, on nature strips or by bike paths, Little Libraries are re-claiming common spaces for the greater good. Follow the map on streetlibraryau to find one near you and keep your eyes peeled for any more that pop up in the area. That daily iso walk just got a whole lot more exciting, hunt for a Little Library and uncover a good read.
Here are a few of my favourite Little Libraries in Brunswick, courtesy of streetlibraryau. 
Guthrie Street Library – 15 Guthrie St, Brunswick West 
This library was a project I made whilst under COVID-19 lockdown, and during this time of social distancing, I've come to believe it's more important to stay connected than ever, and a community library is a fantastic way to do that.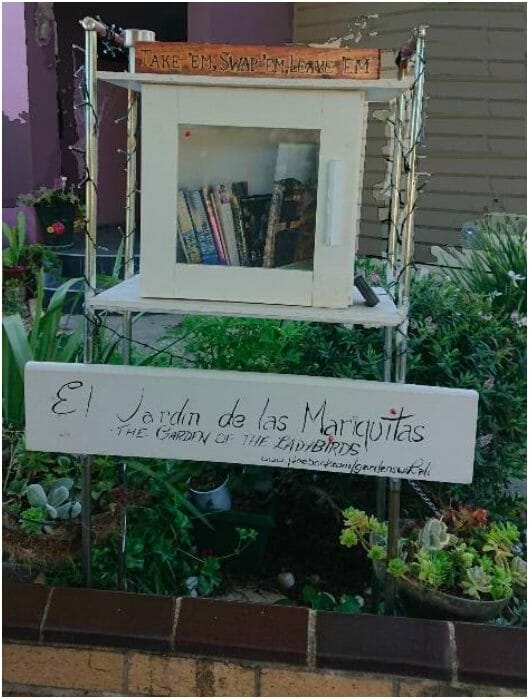 The Garden of Ladybirds – 7 Stranks Ave, Brunswick West
This little library includes a small plant area of succulent cuttings. Books are routinely given to charity if they do not find a new home. 
When Ali Kayn took over the garden in Brunswick West she included a variety of ladybirds and other figures, all hand-painted. The garden (El Jardin de las Mariquitas) includes masses of succulents and other plants. The little street library and a place for swapping cuttings and young potted plants were introduced as part of the community-sharing vision of the garden.
Bryant's Books – 108 Victoria St, Brunswick East
Handcrafted from 100% recycled materials such as fence posts, old spare plywood and leftover paint, all found in our shed. This project is far from perfect, but an enormous amount of effort has gone into it. This library is for all ages: you are never too young or old to dive into a new story and there is no friend as loyal as a book.